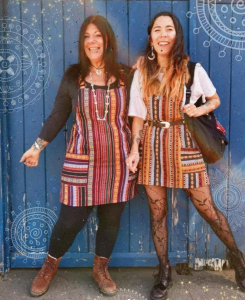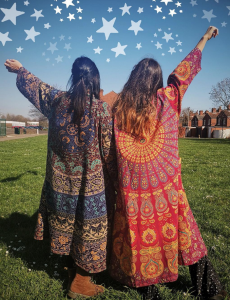 Our Story
Adorned has its roots in the early 2000's when Margarita began trading in costume and silver jewellery.
Within a couple of years she began experimenting with her own handmade pieces, combining beads and pieces from broken jewellery with new findings to create bohemian, upcycled merchandise. During this time Sarah was still at school though did occasionally bunk off to help her mum sell! In her spare time she enjoyed crafting dolls clothes out of fabric, and would later on customise / destroy all her band tshirts. She also learned early on to make her own jewellery with the guidance of Margarita.
In 2012, we did our first market stall in years under the name Ethics. After relocating to the North-East Margarita's jewellery making had been put on the back burner, and Sarah had also started university. However, we had become aware of and unnerved by the growing unsustainability of the fashion industry, and made a pledge to combine forces to create ethically-minded clothing and jewellery. This began with just a few pieces sourced from charity shops and reworked at home.
By the time Sarah left university it was clear she wanted to keep on with this little business; we'd started trading at vintage fairs and stalls as well as set up a few online shops. Our hearts and souls were fully invested in doing what we could to fight against the fast fashion industry.
So, we gave it our all. In 2014 we had our renaissance as 'Adorned', which as you'll see of course we still are today! Since then, we've developed so much. Our small shop now has a humble selection of pieces including for babies and children (melting us and making us broody), menswear and plus-sized, ethically traded clothing of our own creations. When we get together to make jewellery we're constantly bouncing ideas off each other, inspiring and laughing along the way.
Yet, looking back, we're still the same little mamma-daughter hippie shop. Sunshine, crystals, paisley prints, flowy fabrics. All made and sourced with genuine love.
We hope you will support us on our journey. That doesn't have to be financially, we always appreciate any shares, love on our social media channels and messages!